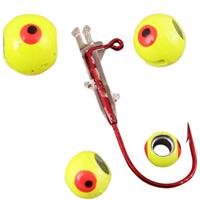 Minnesota walleye guide Jonny Petrowski plies his trade in the Rainy River area. This includes Upper Red Lake and, during the spring spawning run, the Rainy River, which flows into Lake of the Woods.
From ice out to mid April, before Minnesota's walleye season closes for a month, Petrowski jig fishes the Rainy River. During this brief interlude, he puts his clients in touch with slews of walleyes that weigh 6 to 9 pounds and more. Lindy's X-Change Jig System has made Petrowski's river fishing easier and far more productive. On any given day, he fishes different depths and varying current speeds in the Rainy River.
"The X-Change Jig is heaven sent," Petrowski says. "Especially for guiding where I've got to change four or five jigs at once."
Since there's no need to retie with the X-Change Jig, Petrowski can quickly switch jig weights and colors. This saves loads of fishing time and prevents his fingers from going numb while tying knots on a windy day in subfreezing temperatures.
"The X-Change Jig is also a huge space saver," Petrowski says. "I can fit all the jigheads I need in a little box that slips into my pocket."